The American Legion Harrisburg Post 472 is proud to announce that the Mario Gallegos Sr. Scholarship - 2022 is now open to applicants.
Deadline for package submission is: 1
August 2022
.
Click on the photo to download the Scholarship application and to submit your complete package .
Please contact us if you have any questions.
We are curreltly accepting school supplies to assist the local children in need. Supplies and clothing for all ages are accepted.
"Invest in the future of our children".
9-11-01 Rememberance Run/Walk
Date: Sunday, September 11, 2022
Time: 7:30 a.m. - 9:30 am.
Location: 7599 Avenue C. Houston, TX. 77012
Registration is $10.00 per person (Children under 10 are $3.00).
Food and refreshments will be provided.
Call John Gomez for details: 713-298-2611
Click the photo to download your waiver. Must be submitted to participate. Also available at registration.
JOSE "JOE" CAMPOS TORRES MEMORIAL
WE WERE HONORED TO BE CHOSEN TO PRESENT A 21 GUN SALUTE AT THE JOE CAMPOS TORRES PLAZA DEDICATION. JOSE "JOE" CAMPOS TORRES WAS AN ARMY, VETNAM WAR VETERAN THAT WAS BRUTIALLY MURDERED IN 1977 BY HOUSTON POLICE NEARLY 45 YEARS AGO
THE AMERICAN LEGION CONTEST
Thank you, Tyler Crivella from Seven Lakes HS and Daniel Rupawalla from Obra D. Tompkins HS and Katy Post 164 for allowing us to take part in this years contest. We were all amazed and enlightened by your skills and professionalism. "Aim for the stars"
For online details visit:
https://txlegion.org/programs/oratorical/
41 ST ANNUAL GOOD FRIDAY FISH FRY
We wish to THANK everyone that helped make this event succesful .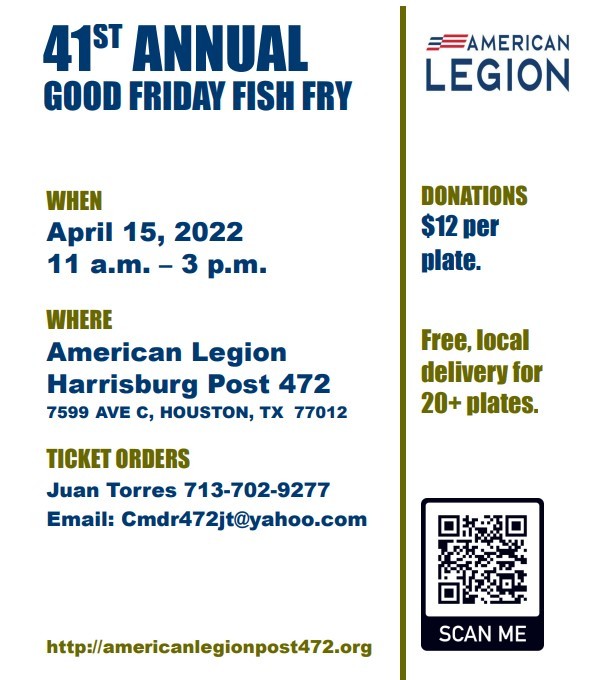 MARGARITAS, DANCING AND AN ENJOYABLE TIME
Mario Gallegos Sr. Scholarship Golf Classic
We were blessed in having good weather, food and fun at the .
We would like to give a huge Texas Size "Thank You" to all those that participated in this years, long awaited, golf classic. Special Thanks go Isreal "Izzy" Gomez, Pasadena Municipal Golf Course and the American Legion Post 472 members that kept the drinks cold, the hot dogs warm, the mixed drinks flowing and the day enjoyable. The funds raised are invested into our future LEADERS through college scholarships. Thank you!
A day in which we honor and remember those who made the ultimate sacriface and served their country with devotion and honor.
103 Texas American Legion Conference
Austin, Texas July 12 - 17, 2022
Oldest and Youngest American Legion winners
Drill Team 2022 State Champions
Some of the Delagates and Auxiliary at the Conference
LA SUPER COMADRE CLAUDIA SHOW - RADIO CRYSTAL USA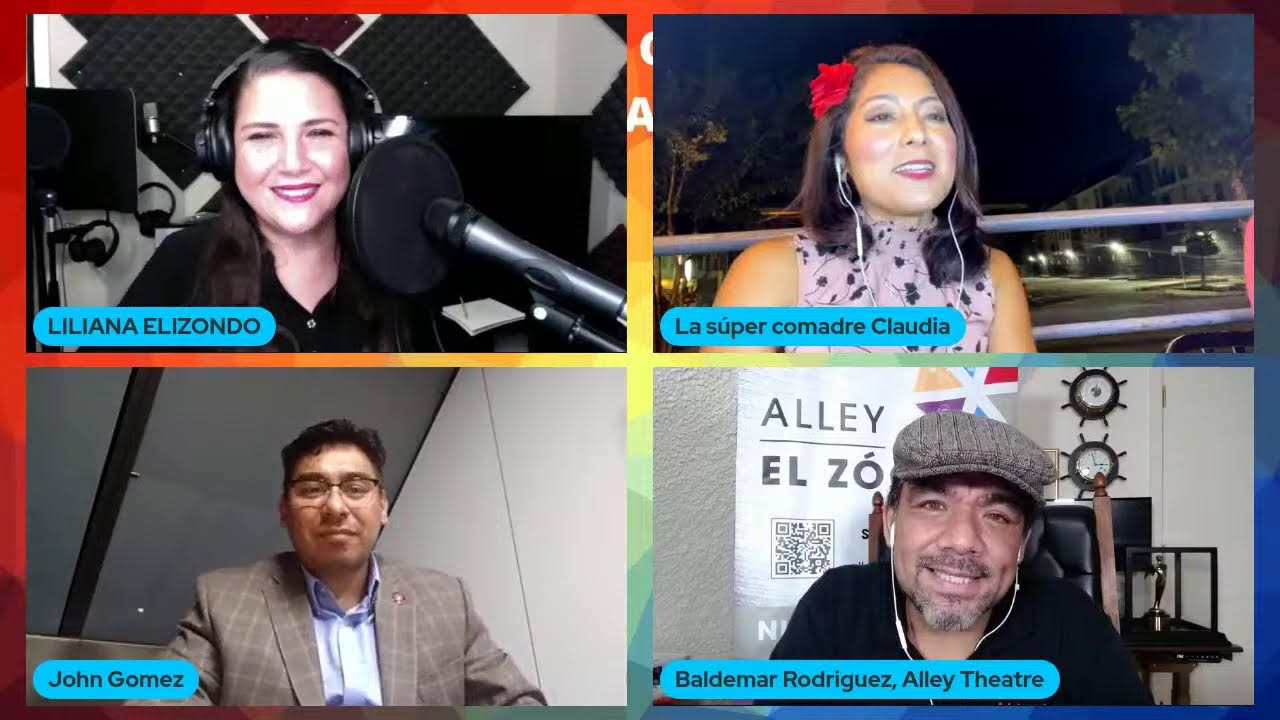 THE AMERICAN LEGION 102ND NATIONAL COLOR GUARD COMPETITION